NEW YORK - November 16, 2015 - The November 15th edition of The New York Times T Magazine features this article about Haworth's visionaire, Patricia Urquiola.

From the article:
"But her most obvious source of inspiration is her previous work in unearthing the psychic structures of the home, and the restlessness of her own comportment. Her office work for Haworth, called Openest (as in ''open'' plus ''nest''), which launched in 2014, stands out from the pack of reiterative chairs and conference tables. Openest is defined by its thick, floppy partitions: Made of sandwiched polyester foam and fabric (rather than wrapped particleboard), they seem to canopy the spaces they shield and exude a surreal pliability. She has since brightened the colors and added glass partitions slicked over with a psychedelic dichroic film."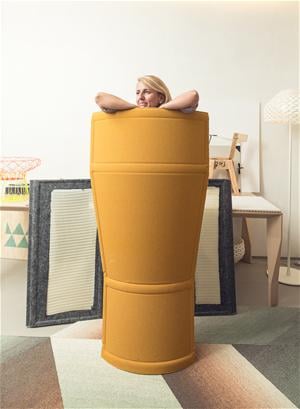 For more on Patricia's work with Haworth, visit here.
###
Globally, Haworth improves workplaces with award-winning furniture, interior architecture and technology solutions to help customers achieve business goals and transform culture as well as support collaboration and innovation.  Research + design drive a deep understanding of agile workplace needs and are at the center of the company's strategy.  Haworth is committed to protecting and restoring the environment, creating economic value as well as supporting and strengthening its communities.  Founded in 1948, Haworth remains family-owned and privately-held and serves markets in more than 120 countries through a global network of 650 dealers and 6,500 employees. The company had net sales of US $1.8 billion in 2014.