October 10, 2022 – Haworth's Compose Echo, a collection of products designed for both the individual workstation and collaborative areas, recently won a Silver IDEA award from the Industrial Designers Society of America (IDSA) in the Office and Accessories category. Celebrating excellence for over four decades, the IDSA IDEA awards are one of the longest running and most prestigious design award programs in existence.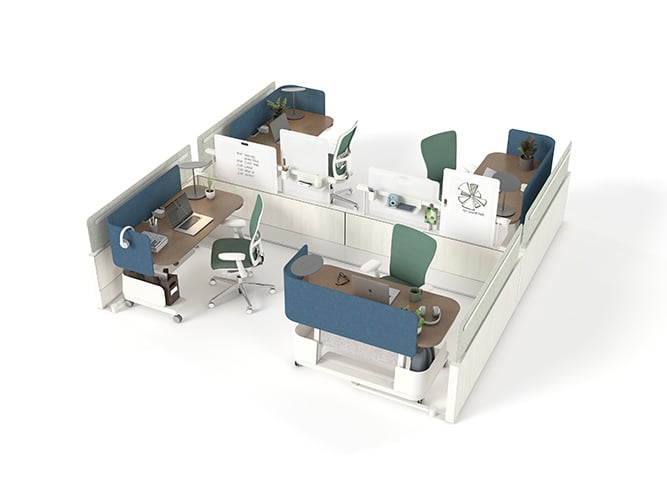 Coming back to the office is different and the open plan should be too. Designed by the Haworth Design Studio, Compose Echo is the workspace deconstructed. It is a human-centric collection of products designed for the individual workstation as well as collaborative areas.
Compose Echo offers unique elements like a table tether, a tablet markerboard and onboard storage with accessories. It enables cohesive layers of performance, both vertically and horizontally, with the freedom to move in between. Echo is one of the solutions for the office of now designed for highly collaborative and complex work, which is ideally done from the office both in hybrid and full-time settings.
Originally founded to recognize exceptional achievement in industrial design, the IDEA program from IDSA has grown to highlight design in many connected disciplines, including design strategy, branding, digital interaction and more. Each year, the jury reviews IDEA entries across 5 criteria: design innovation, benefit to user, benefit to client/brand, benefit to society and appropriate aesthetics. Winners reveal the tremendous significance of design in business, society and beyond, thus proving that great results are possible when design is leveraged to its fullest potential. The IDEA award gallery is available here.
###
Globally, Haworth enriches spaces with award-winning furniture, interior architecture, luxury lifestyle products and technology solutions to help create beautiful rooms and achieve business goals. With a strong history of craft, innovation and 400 patents, Haworth is committed to protecting and restoring the environment; creating economic value; and supporting and strengthening communities. Founded in 1948, Haworth remains family-owned, serving markets in more than 120 countries through a global network of 650 dealers and 7,500 employees. Headquartered in Holland, Michigan, U.S.A, the company has net sales of $2 billion USD.