Using an organic workspace approach, the Haworth NeoCon 2018 showroom in Chicago empowers people to choose where to perform their best work. The workspace designs nurture culture and well-being while featuring new products like the Cultivate table, Soji seating, Maari seating and Chick Pouf. Collaborations with GAN rugs and Kvadrat textiles are also showcased in the newly redesigned 30,000 square foot showroom.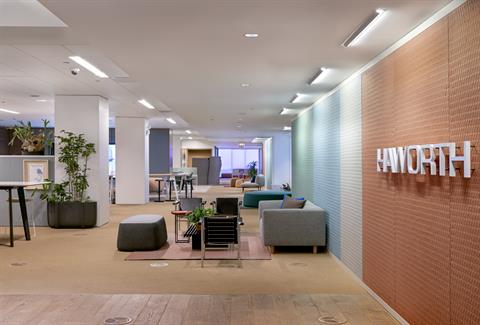 Haworth's lead showroom designer is Patricia Urquiola. Together with her studio team and the Haworth design team, Urquiola blended the elements of organic workspace design to demonstrate how space can hone in on the needs of the individual. The adaptable workspace also considers how work teams come together and overall business objectives.
Maari is designed by Urquiola and premiering at NeoCon with two active work chairs and a timeless wood base side chair. Cultivate, designed by Dan West with Haworth's Design Studio, is a platform for employees to gather and nurture community in the workplace. Soji is a highly adjustable task chair designed by Arne Dassen of the Haworth Design Studio. The GAN partnership is demonstrated with Bandas Space – an ingenious, modular, interchangeable system of rugs and seating also designed by Urquiola. The showroom also highlights two Kvadrat textiles, Melange Nap and Floyd, that will be globally available through a new partnership with Haworth.
Soji and Maari were Interior Design HiP honorees and Maari received a Metropolis Likes award. Haworth partner brands Janus et Cie and Tuohy also received Best of NeoCon awards.


###

Globally, Haworth, Inc enriches spaces with award-winning furniture, interior architecture and technology solutions to help create beautiful rooms and achieve business goals by supporting collaboration and innovation. Research, knowledge and design are at the center of the company's strategy and foster a deep understanding of built environments, culture transformations and agile workplace needs. With a strong history of craft, innovation and 400 patents, Haworth provides customers with tailored, inspiring spaces that enhance business, stir spirits and improve lives around the world. The company is committed to protecting and restoring the environment; creating economic value; and supporting and strengthening communities. Founded in 1948, Haworth remains family-owned and privately-held serving markets in more than 120 countries through a global network of 650 dealers and 7,500 employees. Headquartered in Holland, Michigan, U.S.A, the company had net sales of USD $2 billion in 2017.