June 13, 2022 – Designed by Patricia Urquiola, Studio Urquiola and the Haworth design team, the NeoCon 2022 lobby at TheMART represents Haworth with this intention: stir spirits, bring spaces to life and make the world better. The display features new products that embody the design and culture of a breadth of brands. This is the first time the private company exhibited its design brands together in a public setting.
The Haworth brand cubes are covered in upcycled Really textiles by Kvadrat. These materials are designed for circularity and use end-of-life textiles that are engineered into premium-quality materials suitable for commercial projects. The cubes will be repurposed for display at Haworth headquarters in Holland, Michigan.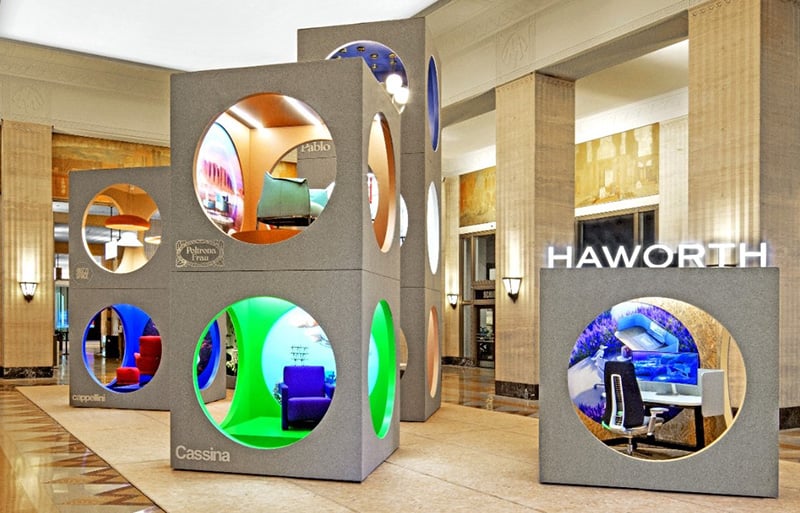 As a family-owned company that leads with a community of design partners and global expertise, Haworth is uniquely positioned to create beautiful interiors. Products and services come from a breadth of admired brands; research and design centers span three continents and propel the company into the future with innovative design thinking fueled by a tapestry of cultural influences. Haworth makes interiors for wherever you work and live. Space matters and impacts lifestyle – in offices, restaurants, hotels, vehicles, planes, boats, medical centers, schools and homes.
###
Globally, Haworth enriches spaces with award-winning furniture, interior architecture, luxury lifestyle products and technology solutions to help create beautiful rooms and achieve business goals. With a strong history of craft, innovation and 400 patents, Haworth is committed to protecting and restoring the environment; creating economic value; and supporting and strengthening communities. Founded in 1948, Haworth remains family-owned, serving markets in more than 120 countries through a global network of 650 dealers and 7,500 employees. Headquartered in Holland, Michigan, U.S.A, the company has net sales of $2 billion USD.