Edison, NJ – February 16, 2018 – Global IFS, a new company specializing in energy efficient flooring solutions, announced its formation today with its portfolio including Camino Systems, Hi-Tech Data Floors, and the Haworth access flooring division, marketed under the name of TecCrete.  Global IFS was formed to be the North American leader in raised flooring systems, that includes access flooring, modular power and underfloor air distribution products.  The combined business will now have state of the art manufacturing capabilities in both the U.S. and Canada, along with a widespread distribution network and a comprehensive suite of services including engineering, project management and installation.  Haworth will continue to have a minority ownership position in Global IFS and, through its dealers, collaborate on future projects.
"With manufacturing plants in Kentwood, Michigan, and Toronto, Ontario, Global IFS unites manufacturing and distribution excellence to create the North American leader of raised flooring system solutions," said Darryl Rosser, Global IFS Executive Chairman. "The company has unparalleled knowledge and expertise in delivering solutions for high performing, flexible and sustainable buildings that maximize return on investment."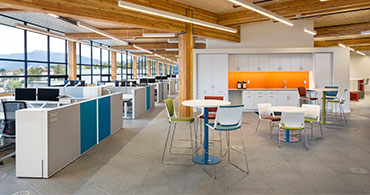 The TecCrete product line is a recognized industry standard in the raised access floor market for its performance and flexibility. Raised access floors and underfloor air provide the architectural foundation for today's sustainable offices, higher education, data center and gaming floor spaces that are responsive, cost-efficient and design savvy. "Raised access flooring continues to be a significant component of Haworth's organic workspace promise and we are excited about ongoing applications in our portfolio," said Franco Bianchi, Haworth President and CEO. "Through our dealers, we will partner with and support Global IFS in the market and continue to showcase its products in our showrooms."
Hi-Tech has been a TecCrete dealer for the past 8 years and has been a leader in providing access flooring and related products for many of the major metropolitan areas in the northeastern United States since 1986. "Having the ability to offer end-to-end complete solutions is a game changer in the raised access market.  We look forward to providing new products that meet the ever-changing needs of our dealers and customers," said Bob McCrossan, President of Hi-Tech.  "An innovative leader in our industry is long overdue."
Camino Systems has been a raised access flooring systems leader, including underfloor air and modular power distribution, in Canada for the past 25 years. Camino has been a TecCrete dealer for the past 13 years and operates a manufacturing facility with showroom, sales and service offices in Toronto, ON. 
Global IFS is poised to position itself at the forefront of the sustainable building products market and will provide the most comprehensive offering of integrated flooring system solutions: multiple raised access flooring lines, modular plug and play power solutions, and a full line of underfloor air distribution components. The company's dedicated in-house resources will play an active role in assisting its North American distribution network to design custom solutions to meet client needs.  Global IFS and its dealer base provide complete consultation, sales support, in-house engineering, project management and installation services in nearly any commercial or residential application, offering a single point of contact and one-stop solution.
Global IFS is a portfolio company of RFE Investment Partners and Cornerstone Capital Partners.
###
About RFE Investment Partners - Founded in 1979, RFE Investment Partners is a private equity firm that partners with entrepreneurial management teams seeking to grow their businesses. Investing out of its eighth fund, RFE has completed over 75 buy-out transactions over three decades, and has consistently guided portfolio companies through multiple business cycles while driving value creation.

About Cornerstone Capital Partners - Cornerstone Capital Partners is a private equity firm that invests in growing, lower middle market manufacturing or industrial service companies. Since 1996, Cornerstone has acquired over 20 companies in the United States and Canada.

About Haworth - Globally, Haworth enriches work spaces with award-winning furniture, interior architecture and technology solutions to help create beautiful rooms and achieve business goals by supporting collaboration and innovation. Research, knowledge and design are at the center of the company's strategy and foster a deep understanding of built environments, culture transformations and agile workplace needs. With a strong history of craft, innovation and 400 patents, Haworth provides customers with tailored, inspiring spaces that enhance business, stir spirits and improve lives around the world. The company is committed to protecting and restoring the environment; creating economic value; and supporting and strengthening communities. Founded in 1948, Haworth remains family-owned and privately-held serving markets in more than 120 countries through a global network of 650 dealers and 7,500 employees. Headquartered in Holland, Michigan, U.S.A, the company had net sales of USD $2 billion in 2017.