CHICAGO – Haworth, Inc. unveiled a completely refreshed showroom today at the Merchandise Mart for NeoCon 2017. Launching over 20 new products, the space shows how optimizing organizational culture through effective space design engages employees, increases performance and drives innovation.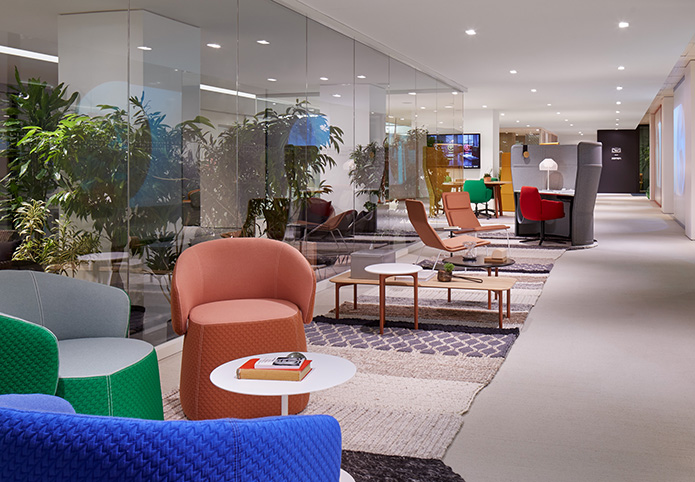 Haworth, together with partner companies, received the following NeoCon awards:
#Metropolis Likes for Corner Office by Pablo Designs and Tuohy's Andavi Collection
Andavi; Domino Collection from Tuohy; Matisse from JANUS et Cie; Corner Office and Superlight (also by Pablo Designs); Riverbend lounge and Pebble ottoman were Finalists for Interior Design's HIP awards
Corner Office won the HIP award from Interior Design for the Lighting category
JANUS et Cie won a Best of NeoCon Innovation award in the guest seating category for the Katchi High Back Lounge chair.
Tuohy won Best of NeoCon Gold for Andavi in the Best of NeoCon casegoods category. This product was also one of four finalists for Best of Competition.
Additional new products from Haworth include: Enclose Frameless 2 Channel walls; Fern seating head rest and leather enhancements; Masters Series enhancements; Poppy Lounge; Riverbend and Pebble lounge seating; and the Pip laptop table. Haworth Health Environments launched Atwell seating and Haworth collection is celebrating new partnerships with Pablo Designs and GAN rugs.
Haworth continued the partnership with Patricia Urquiola and team at Studio Urquiola for the overall design vision of the NeoCon showroom. The design features layouts for two companies with different culture types. Together with an interactive culture site, the showroom shows how culture can translate to a design that elevates the human experience.

This year, the showroom expanded to show how Haworth brand partnerships are meeting all space needs for clients. The Cappellini Cafe, Cassina Cafe, Poltrona Frau office, Poltrona Frau conference room and JANUS et Cie front porch feature new products, showcase executive spaces and showcase beautiful common areas. New products include:
Chair 2, Lukis and Telo from Cappellini
Caprice and Passion chairs and tables from Cassina
Jay Lounge, Jobs Desk, Mesa Due, Ming's Heart from Poltrona Frau
Gigi II from JANUS et Cie
The Haworth showroom was also home to the Cockpit chair by Poltrona Frau, first previewed at Salone. This design collaboration with Ferrari celebrates the carmaker's 70th  anniversary.
The permanent Haworth Health Environments showroom is located just around the corner from the Haworth showroom on the third floor of the Mart.  The space demonstrates a holistic and human-centered design approach that fosters well-being for patients, families, caregivers and corporate employees who make wellness a priority.
###
Globally, Haworth improves workplaces with award-winning furniture, interior architecture and technology solutions to help customers achieve their business goals by supporting collaboration and innovation, as well as contributing to culture transformations. Research + design drive a deep understanding of agile workplace needs and are at the center of the company's strategy.  Haworth is committed to protecting and restoring the environment, creating economic value as well as supporting and strengthening its communities.  Founded in 1948, Haworth remains family-owned and privately-held and serves markets in more than 120 countries through a global network of 650 dealers and 6,500 employees. The company had net sales of USD $1.94 billion in 2016.