Bad Münder, Germany – October 22, 2018 – BuzziSpace and Haworth are joining forces to answer the increasing demand for smart acoustic solutions in work environments and flexible spaces.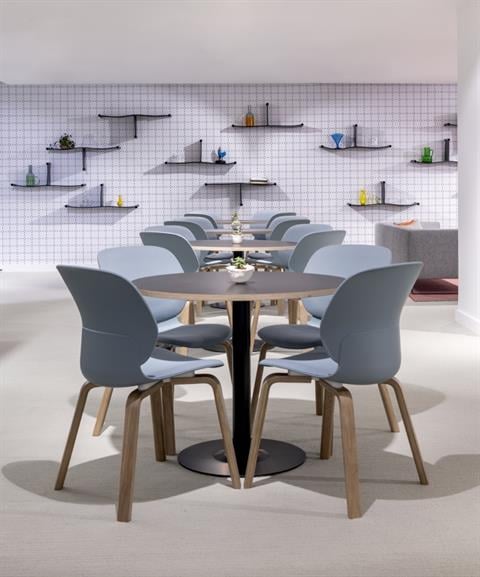 As an expert in acoustic and collaborative workspace solutions, BuzziSpace has become a successful player in the market. It became evident that further growth would be accelerated with a strong partner that has global expertise. Haworth is a global solutions provider for workspaces with a broad portfolio of products and services for productive work environments.
"In order to take BuzziSpace to the next level, I believe the partnership with Haworth, also a family business, will bring the synergies we are looking for," said Steve Symons, founder and CEO of BuzziSpace.
While BuzziSpace continues to serve existing partnerships as an open line brand, a curated portfolio of BuzziSpace products will officially be added to the Haworth Collection globally in early 2019.
"As a shareholder, Haworth will support and encourage the independent development of the BuzziSpace brand, as well as all affiliated brands," said Franco Bianchi, President and CEO of Haworth.
Haworth and BuzziSpace will both exhibit at Orgatec, the international fair for office furniture from Oct 23rd to 26th, demonstrating how their products and solutions support [email protected] Visit BuzziSpace in hall 10.2, booth P040 N041 & P050 N051. Visit Haworth in hall 9, booth A68/B069.
###
BuzziSpace creates solutions for happy and healthy spaces around the world. With a mission to improve wellbeing through human centric design, the Belgian design brand provides original acoustic solutions, lighting and furnishings to meet the needs of the modern workplace — and beyond. It started with acoustics. From there, the mission grew. Driven by an unbounded passion for solving modern design challenges, BuzziSpace continuously reimagines furnishings to be more functional and more fun. The brand provides new sustainable ways of working and living. Its "No Boundaries" vision stretches beyond the traditional confines of the workplace, to create happy and healthy environments. Founded in 2007, BuzziSpace has grown into an award-winning acoustics leader. The Antwerp-based company has established an international presence with showrooms in Antwerp, Chicago, London and Aachen, and its own manufacturing facilities in Bladel (NL) and High Point (US).
Globally, Haworth, Inc enriches spaces with award-winning furniture, interior architecture and technology solutions to help create beautiful rooms and achieve business goals by supporting collaboration and innovation. Research, knowledge and design are at the center of the company's strategy and foster a deep understanding of built environments, culture transformations and agile workplace needs. With a strong history of craft, innovation and 400 patents, Haworth provides customers with tailored, inspiring spaces that enhance business, stir spirits and improve lives around the world. The company is committed to protecting and restoring the environment; creating economic value; and supporting and strengthening communities. Founded in 1948, Haworth remains family-owned and privately-held serving markets in more than 120 countries through a global network of 650 dealers and 7,500 employees. Headquartered in Holland, Michigan, U.S.A, the company had net sales of USD $2 billion in 2017.