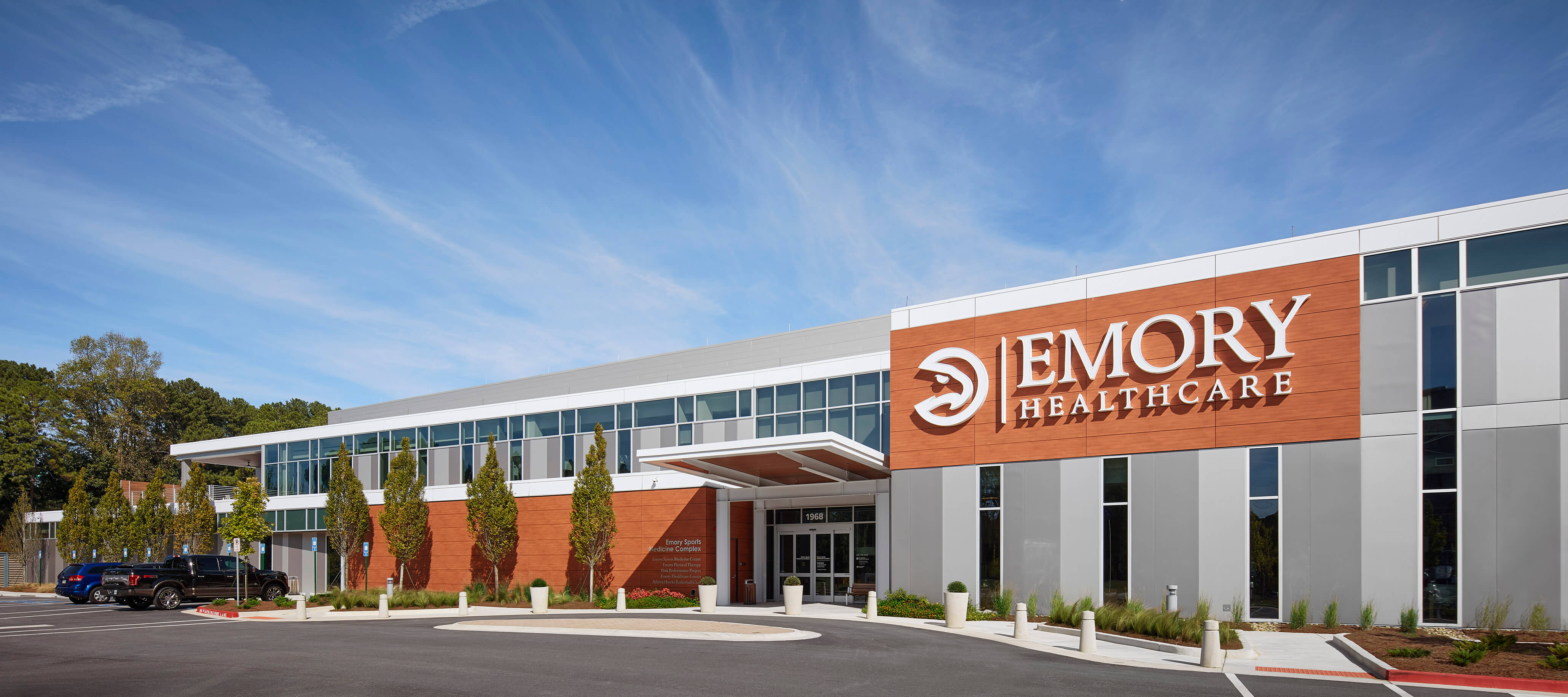 Customer Story

Atlanta Hawks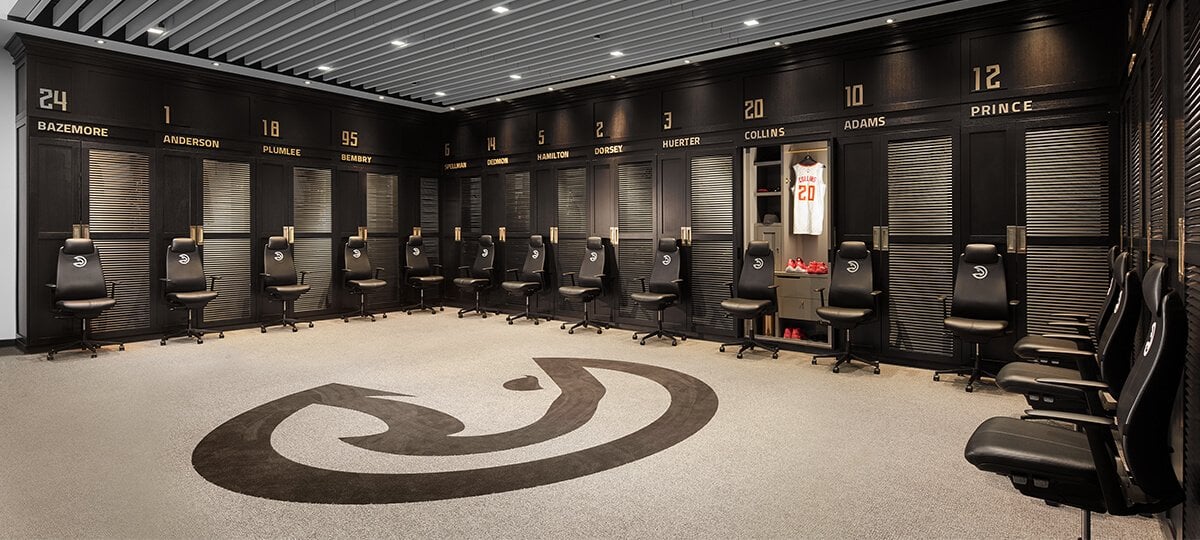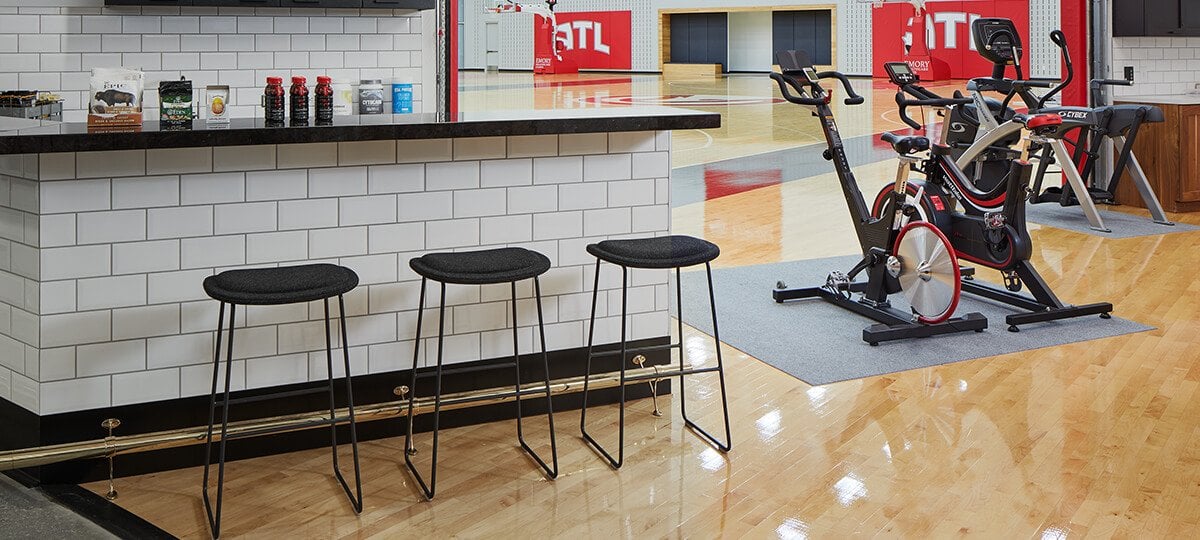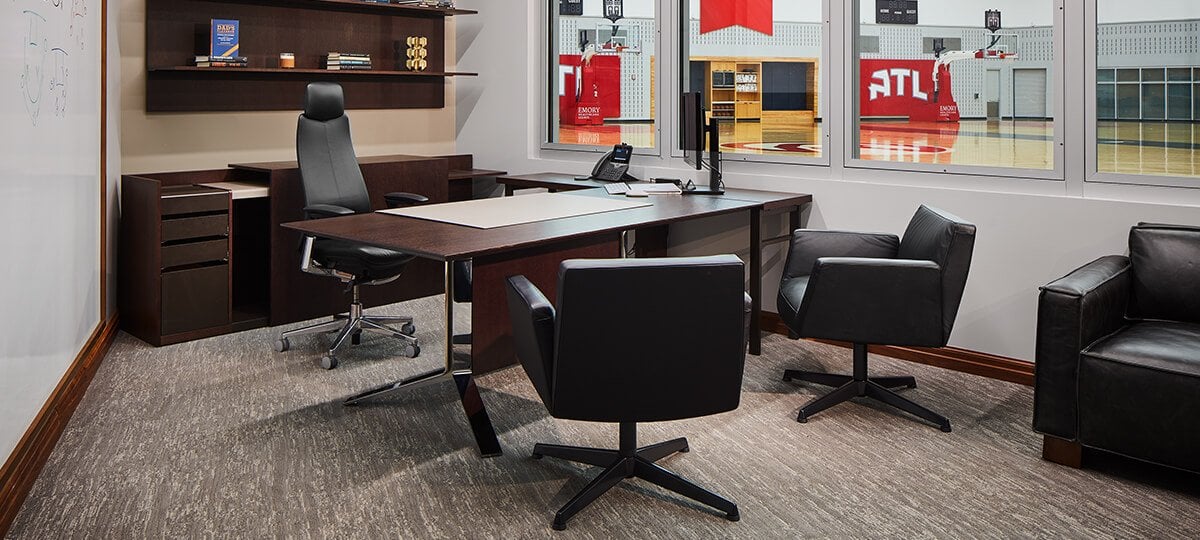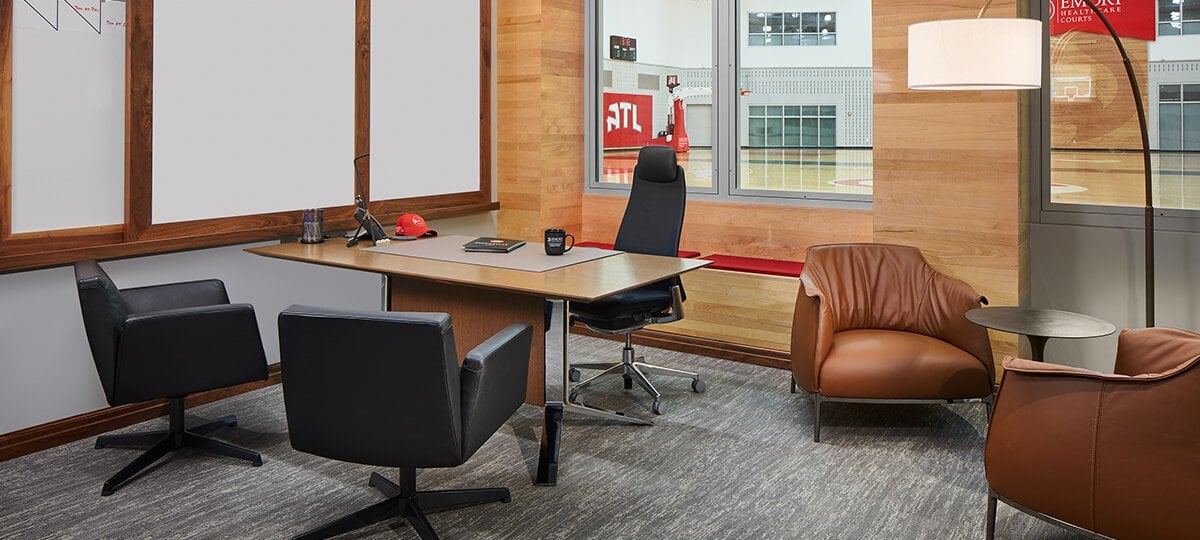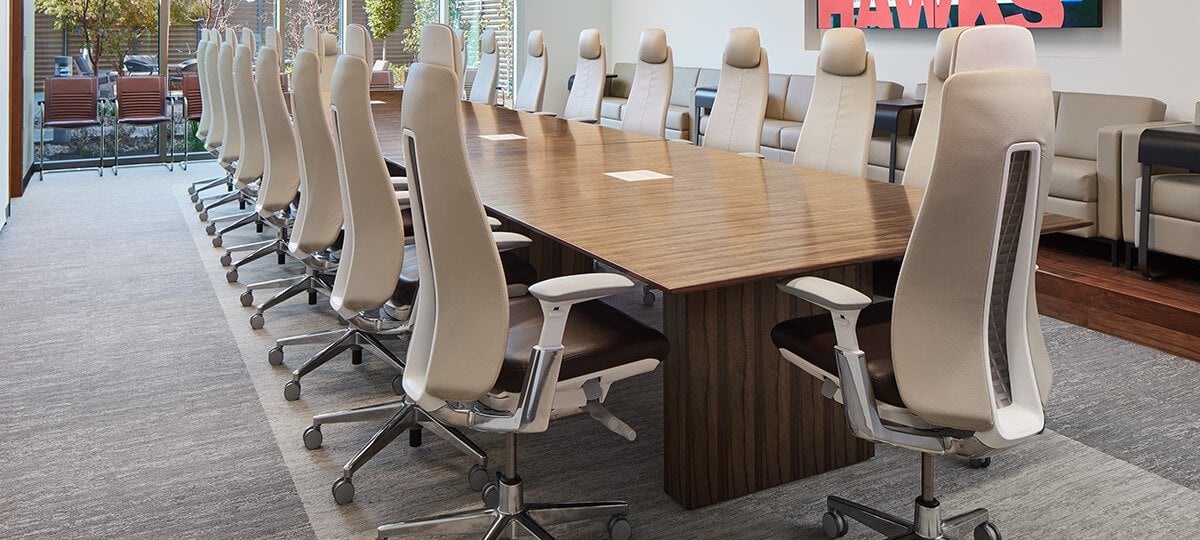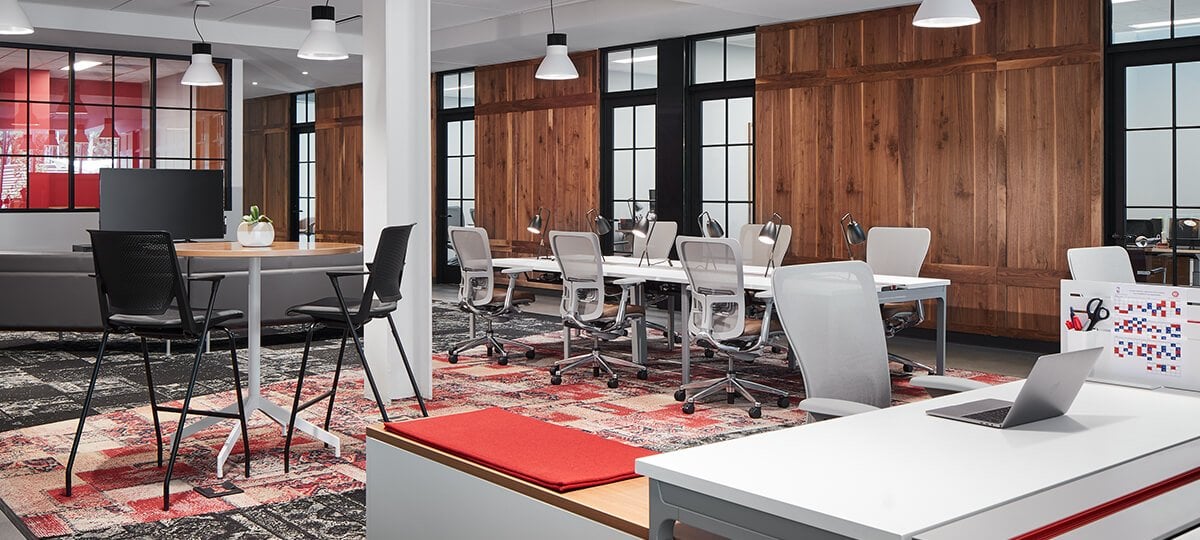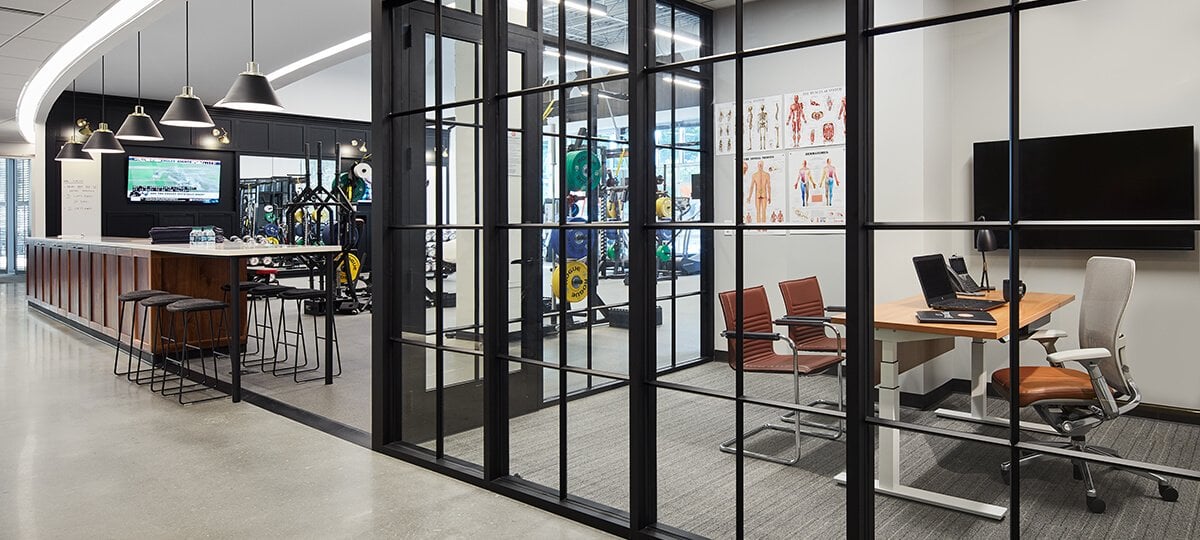 The locker room was designed to portray the experience of sophistication—its black and gold palette and spotlights on each locker creating an elegant, dramatic effect. With the design focused on maximum comfort for tall athletes, everything had to be on a larger scale. Details and architecture include taller sink counters, bigger handles, and an open locker area. The space features 18 Fern® chairs with headrests, each customized with a seat height extension and embroidered Hawks logo.
The design of this space was important for both the players and the trainers to have flexibility—moving quickly and easily between the basketball courts, physical therapy, and nutrition areas. Hi Pad stools provide a landing space at the nutrition bar between practice and refueling.
The General Manager has a private executive office adjacent and with visibility to the basketball court. It features a large built-in whiteboard, furniture in Espresso with plenty of desk space and storage, and a lounge area for casual and social conversations. This configuration is tailored to fit the unique footprint of the office and create maximum usable space.
Similar to the General Manager, the head coach's private office is located between the basketball courts, coaching staff, and team theater for video coaching. It also features a large built-in whiteboard for coaching. Furniture highlights include a desk, high-performance Fern task chair, and an adjacent sitting area with two soft leather, finely-crafted Haworth Collection™ Archibald™ lounge chairs, creating work and comfort zones. Finishes were carefully selected to complement the original wood court flooring displayed on the wall behind the desk.
Imagine this room full of people during long days of negotiations, reviewing videos, heated conversations on draft picks, and media announcements. Important must-haves include access to nature and daylight for destressing, comfortable and ergonomic Fern® chairs for long hours of sitting, easy access to power and technology, sound privacy, additional seating around the room for expansion, and an adjacent refresh area for re-energizing.
This open space environment with access to daylight and a courtyard was designed for office staff requiring visibility and connectivity. Intuity® benching and Zody® chairs make up several individual workstations for mobile workers. Planes® table and Very® barstools create collaborative areas. Small, private offices line the perimeter for individual focus and privacy needs. To maximize ergonomic requirements, Planes height-adjustable tables offer a place for people to touch down quickly and move on in a busy, fast-paced environment.
This open area with Compose® benching and Zody® chairs is located just outside the coaching area and is a perfect touchdown place for additional staff and visitors to use. It also has a small group collaboration area with access to a large viewing monitor as well as Belong® storage.
Attracting the best talent and a focus on health and well-being are two drivers behind the space design. This impressive training area highlights advanced weight-training equipment separated by a sleek black-accented glass wall. The training manager has visibility from his office behind the glass. A Planes® height-adjustable table, Exchange™ guest chairs, and a Zody® task chair provide functionality and comfort for athletes and their trainers in a small collaborative area used for relaxing, hydrating, or interacting. X Series® storage provides a solution for a variety of storage needs and requirements.